We embrace irrational generosity.
We see Jesus' transforming power at work every day through healed families, restored faith, and stronger communities. When we put God above material things, we declare our trust and faith in him and invite his blessings into our lives.
JOIN US
With locations all throughout The East Valley, there's a place for you here.
We would love to see you this weekend!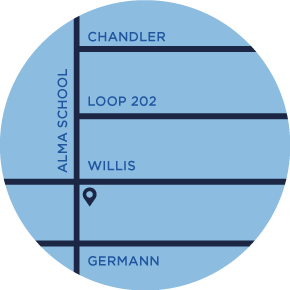 CHANDLER CAMPUS

SATURDAYS
4:00PM · 5:30PM

SUNDAYS
7:45AM · 9:05AM
10:35AM · 11:55AM

1595 S ALMA SCHOOL ROAD
CHANDLER, AZ 85286
SELECT CAMPUS
SAN TAN CAMPUS

SUNDAYS
9:15AM · 10:45AM

1084 W. San Tan Hills Dr.
Queen Creek, AZ 85143
SELECT CAMPUS
SCOTTSDALE CAMPUS

SUNDAYS
9:15AM · 10:45AM

7320 EAST PALM LANE
SCOTTSDALE, AZ 85257
SELECT CAMPUS
We encourage giving as an act of worship
1
It focuses our hearts on our true treasure which is Christ (Matthew 6:21)
2
It is an acknowledgement that God is the owner of everything. (I Chronicles 29:11-12)
3
It turns our focus from the idolatry of money to serving God (Luke 16:11-13)
4
It is an expression of our love for God and our devotion to Him.
5
It is born out of our free response to all He has done for us, not out of guilt or duty. (II Corinthians 9:7)
6
We encourage giving as an act of worship
Tithing is our foundation of giving
The Bible teaches us a baseline standard for giving: the tithe. When we give the first 10% of our income to the church, we put God first in our lives. Tithing is an act of worship that expresses our gratitude, faith, and love for others. The Three-Month Tithe Challenge can help you get started.
90-DAY TITHE CHALLENGE
Tithing is one of the most tangible ways we worship God because it declares that he is first in our lives. This 90-day commitment to put God above material things is a huge step of faith and trust, and we couldn't be more excited to hear how God works in your life as a result. If you don't start to see a transformation in your heart or in your life, we will refund 100% of your tithe from the 90-day period. Request for refund would need to be received within 120 days of this form's submission. *If participating in the challenge with your spouse, please fill out a form for each individual. This will ensure that all communication is received by each person.
TAKE THE CHALLENGE
Rock solid finances
It's Time To Be Proud Of Your Finances
Does dealing with your finances rank right up there with getting a root canal? If you started nodding your head yes or even shouted "AMEN" then you're in the right place.

A lot of people struggle to find the financial freedom they dream of having. You're not trying to live on an island somewhere, but if you could stop living paycheck to paycheck you can imagine how different life could look!

We don't think feeling stressed, anxious, and overwhelmed over your finances should be "normal" for you anymore.
You shouldn't have to feel embarrassed or like a failure when it comes to your financial health.

We've helped countless people get their finances in order using Rock Solid Finances, a two-week course based on the Financial Principles taught in the Bible.

Imagine how it will feel to finally have finances you can be proud of?
Estate Planning
Design your legacy!
When life gets busy, we all forget that tomorrow is not a promise, and today is a gift. Here at Cornerstone, we want to help you slow down and offer a stress-free way to prepare for the future. We have partnered with Financial Planning Ministry to help you through the process of creating a will or trust at no out of pocket cost to you. This informative seminar will cover topics such as probate, guardianship, planning and stewardship. Save your seat today!